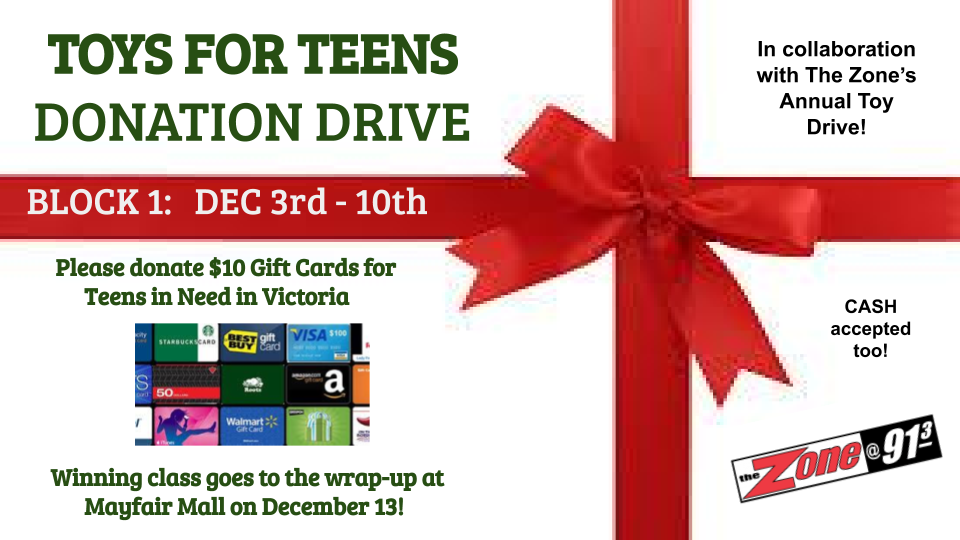 The 7th annual "Toys For Teens Donation Drive" is on from December 3-10. Claremont donates Gift Cards for Teens in Need in our Community in support of The Zone 91.3's annual Toy Drive. Our donations are shared by numerous local agencies such as 1UP Single Parent Resource Centre, CFAX Santas Anonymous, Society of St. Vincent de Paul, The Mustard Seed and many more under the umbrella of "The Christmas Giving Network."
We are asking for $10 Gift Cards that Teens could benefit from Grocery Stores, Drug Stores, Restaurants, Retail locations, Bus Passes, Pre-paid Credit Cards, etc. Cash donations will also be accepted.
Students are encouraged to bring their donations to their Block 1 class (or the front office if they do not have a Block 1 class). The Block 1 class who donates the most gift cards will be invited to The Zone's wrap-up party at Mayfair Mall on December 13th at 9 am to drop off the gift cards.
Thank you for your support of this great cause. Happy Holidays!