Friday, December 4, 2020

Dear Parents, Guardians and Students,
Daily Health Check Form: With the cold season upon us, please remember to reference the Daily Health Check Form especially when your child is showing symptoms of illness. Please communicate with your student's teacher(s) to let them know if your child needs to stay home due to illness.
Parent/Teacher Night for Q2: Parent/Teacher night is Thursday. Dec 10th, also Early Dismissal Day (students finish at 2:15pm). Parent Teacher interviews will operate between 6:00 - 8:00 p.m., similar to quarter one. Follow this link to, Pick a Time, and set an appointment for a conversation with your child's teacher. Each appointment booked will be an eight minute phone call with their child's teacher. Some staff will go virtual and use TEAMs video for these conversations.
The Daily Chronicle: Throughout the school week Mrs. Martin sends out daily announcements through the "Daily Chronicle" to a number of Claremont families. The most current information in the Chronicle is read out over the PA system by Mr. Buckham or Mr. Westhaver each day by 11:35. We encourage families to subscribe to this news feed for important information, key dates, clubs opportunities, post secondary possibilities, etc.. and events such as the following. Click Here to link to Subscribe
Toys for Teens: This week the annual "Toys For Teens Donation Drive" starts and runs until Wednesday Dec. 9. Claremont collects then donates Gift Cards for Teens in Need in our community in support of The Zone 91.3's annual Toy Drive. Our donations are shared by numerous local agencies such as 1UP Single Parent Resource Centre, CFAX Santas Anonymous, Society of St. Vincent de Paul, The Mustard Seed and many more under the umbrella of "The Christmas Giving Network."
We are asking for $10 Gift Cards that Teens would like for: coffee shops, restaurants, music, grocery stores, drug stores, retail locations, bus passes, prepaid credit cards, etc. Cash donations will also be accepted. Students are encouraged to bring their donations to their Block 1 class (or the front office if they do not have a Block 1 class). Thank you for your support of this great cause and for sharing the Spartan Spirit. Happy Holidays!
5-Week Flip: We will soon be making the 'flip' to an alternating (A/B) morning block and a full time afternoon block right after we return from the XMas Break (for those of you who are counting the days, this next flip will actually only last four weeks ins/of five). To this end, we would like to restart the process of having those teaching staff who are considering going full time for the morning block to send us their rationales, as well as all teaching staff getting their message out to families to confirm which group (A/B) their child will be in for Block 1.
Claremont Masks: We are offering a limited edition mask with the Claremont logo on one side. They are the same quality and design as the blue mask we provided free to students in September. Starting These limited edition masks, blue or black, are now on sale at the accounts office, 2 for $15.
Group A/B Rotation: The Group A / B schedule listed below: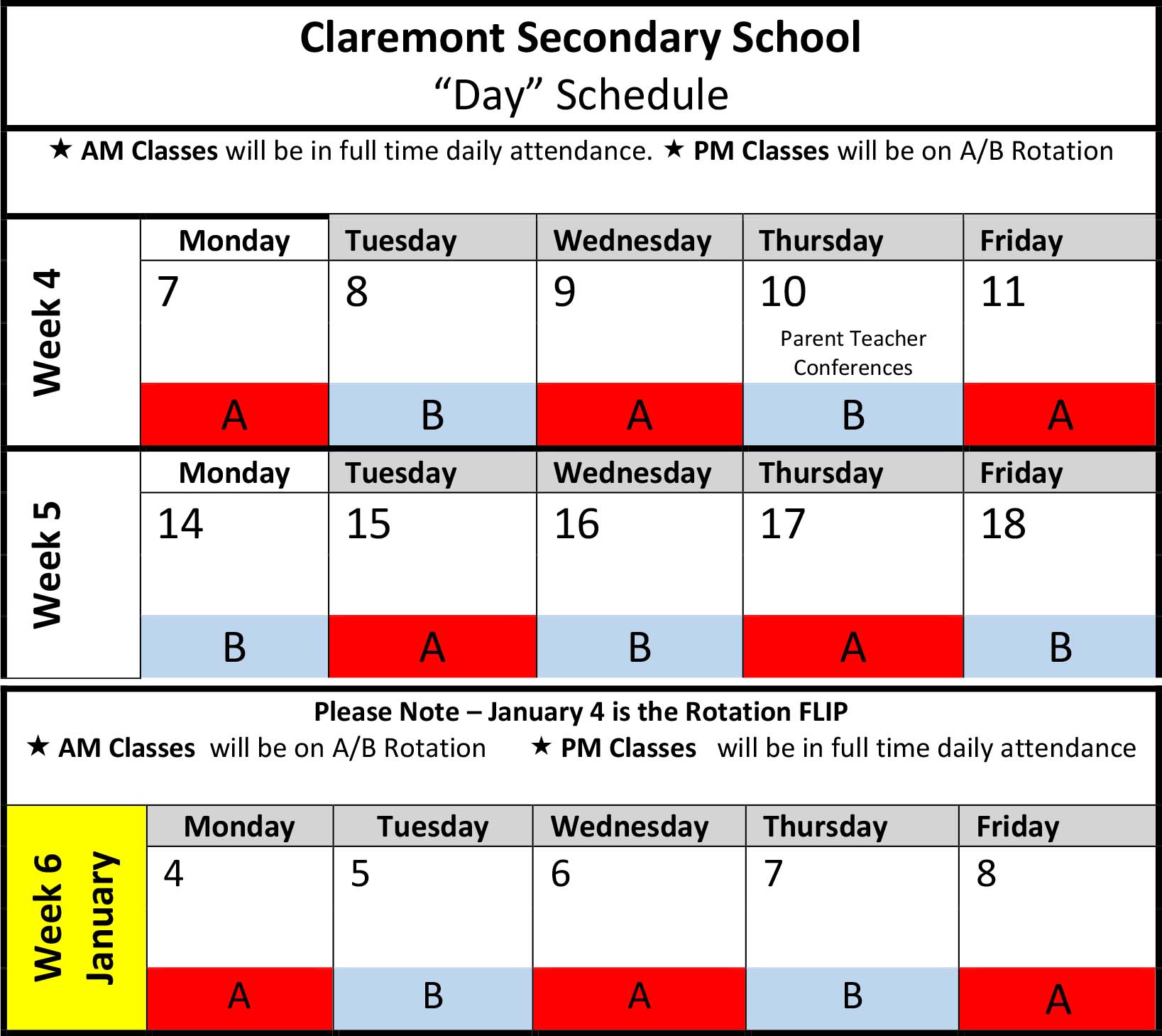 Sincerely,
Peter Westhaver Kelly de Klerk Aaron Buckham
pwesthaver@saanichschools.ca kdeklerk@saanichschools.ca abuckham@saanichschools.ca