Friday February 5th, 2021
Dear Parents, Guardians and Students,
Here are our weekly updates.
● Updated COVID-19 District Information: Please view the most recent post (as of Thurs Feb. 4th) on our Saanich School district website: https://www.sd63.bc.ca/COVID-19
● Report Cards: Students will have received their quarter two report cards this morning in their block one class. We loved reading each student's feedback and we are so impressed with the student learning happening in our building. Those students who do not have a block one class can pick up their report cards from the front office. We encourage those students who are cross enrolled and taking courses through distance learning to please stay on top of their studies. These classes can sometimes create barriers to graduation as we do not have access to student progress listed at other schools (SIDES, NIDES, etc).
● Health and Safety Update: We received updated information from the Ministry of Education and our Public Health Officer on Thursday Feb. 4th regarding safety protocols and the use of masks in schools. We notified our students and staff today that all middle and secondary students must wear a mask in schools both when inside and outside of their learning group (cohort) and when riding the school bus. Students should be eating in their block one class or outside of the building only. We are encouraging those students who do not have classes with us in the afternoon to enjoy their lunches at home. Please speak to your children about the importance of wearing a mask and keeping our community healthy.
● Bus Pick Up at Lunch: The new quarter starting Monday also brings us back to our 'first five week' model of bussing. All students who need to catch the school bus at lunch to go home for the afternoon (pickup at the school just after the start of lunch, and drop off close to home based on three elongated bussing routes) should check the new schedules and maps posted outside the main office. Please take a picture of the route that works best for them to be able to show the bus driver so that they can work out any issues.
Mid Day Bus Schedule February 1
● PAC Meeting date change: Apologies to our parent community at the upcoming PAC meeting date has been changed again. Our next virtual TEAMs PAC meeting will be Thursday February 18th at 7:00 p.m.
● Grad 2021 Bottle Drive Fundraiser: Please support our Parent After Grad Committee with their first major fundraiser of the year. Please save your empties for a Grad Bottle Drive set for Saturday, Feb 27th from 9:00am - 3:00 p.m in the student parking lot at Claremont. If you are interested in helping out with this event, please contact Colleen at mcwesty@shaw.ca
Group A/B Rotation: The Group A/B schedule to start Q3 is listed below: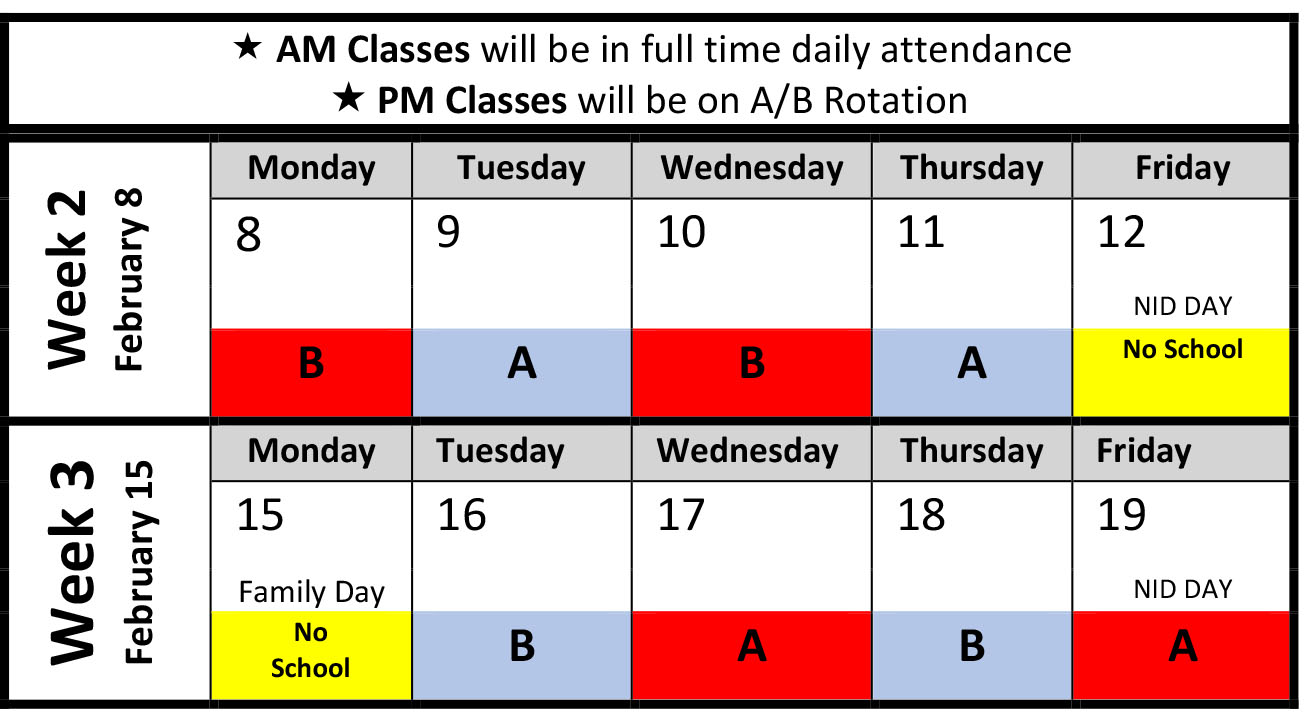 Have a great weekend.
Sincerely,

Peter Westhaver Kelly de Klerk Aaron Buckham
pwesthaver@saanichschools.ca kdeklerk@saanichschools.ca abuckham@saanichschools.ca