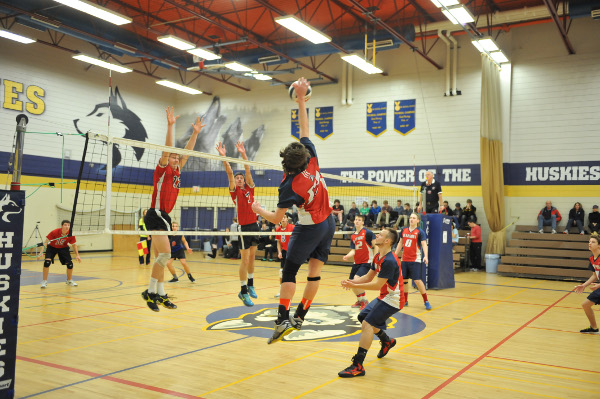 The Claremont Spartans were invited to the B.C. Championships as a wild card berth due to their strong season of play. Vancouver Island had six teams (Belmont #5, Oak Bay #6, G.P. Vanier #13, Dover Bay #10, Reynolds #9 and Claremont #11), in the top 13 rankings prior to the zone qualifiers. At the V.I. Championships only four teams qualified. Claremont and Vanier were invited to the BC's as wild card births and were seated #17 and #20 (respectively).
Claremont went undefeated in pool play beating Vancouver Technical (25-20, 25-14), G.P. Vanier from Courtenay (20-25, 27-25, 15-4) and Mt. Baker (25-20, 25-15) from Cranbrook. Claremont then faced #14 R.A McMath from Richmond and defeated them (25-18, 25-23, 25-23). This win qualified Claremont to play in the round of 16 teams. Unfortunately they faced the #1 ranked Earl Marriott in the best of 5 sets. Claremont had a great chance to close out the first set but lost 24-26. In the second set, they ran into some trouble with their serve-receive rotation and lost 10-25. In the third set the Spartans led for a while but the larger provincial team players that led the Earl Marriott proved to be a little too much to overcome and Claremont lost 18-25.
With only one loss, the Claremont played Semiahmoo - Surrey (ranked 7 higher) and dominated them with great defense and big blocks (25-12, 25-17).  The Spartans then faced off against David Thompson - Vancouver (ranked 4 ahead) and won (25-17, 25-14), earning a place in the Consolation Final vs. Seaquim – Delta.  The Spartans battled and beat the huge team from Delta (29-27, 25-22) and were crowned Consolation Champions with an impressive seven match wins and one loss.