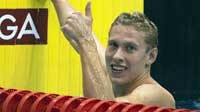 Claremont Spartans are very proud of 18-year-old 2011 Claremont Grad Alec Page, the youngest member of Canada's Olympic swim team and his Olympic initiation. Alec Page was the first swimmer to qualify for London at the Canadian Olympic trials and the first into the water in London.
Alec Page knew he was in deep when he saw who was lining up next to him. Three lanes over was Hungary's Laszlo Cseh; next to him was the mighty Michael Phelps.
Alec touched the wall in the eighth place, six seconds behind the leader. Although Alec said the race didn't go as well as he'd hoped, he took away a measure of pride knowing this was only the start of his Olympic career.
"I knew they were in my heat," Page said of Phelps and Cseh. "I wasn't too worried. They're just people."   "What I'd take away from these Games is how many Canadians got behind me," he said. "It's really humbling."