Friday, September 25th, 2020
Dear Parents, Guardians and Students,
Here are a few topics to be aware of in preparation for next week, Monday Sept 28th - Friday Oct 2nd:

● Monday Sept. 28 is a Pro Day: All schools in the Saanich District will be closed to students Monday Sept. 28th. The focus for staff on this day is to continue our Learning Journey of Indigenious Education in British Columbia. We are happy to be in partnership with FNESC, the Ministry of Education and Metis Nation British Columbia for this important learning.
● Grade 12 and Grad 2021 Information Night: For those parents/guardians of Grade 12 students, please mark Tuesday October 6, 7:00 pm and 7:30 in your calendar. We would like to hold a TEAMs meeting for parents who would like to learn more on what to expect as your child moves through Grade 12. Mr. Pama and Mrs. Giese, our school counsellors, will join this meeting. At 7:30 pm there will be an opportunity for the Grad 2021 'After Grad' Committee to meet, for those who wish to participate. More information will follow on how to join this virtual meeting.
● Parent Teacher Night - Telephone Calls: Parent teacher interviews will look different this year, as unfortunately our regular face to face meetings are not possible. Instead, parents will be able to book appointments online through our school website for Thurs Oct 8th from 6:00pm - 8:00pm. Each appointment booked will correlate to an 8 minute phone call with their child's teacher, with Block 1 phone calls occurring between 6:00pm-7:00pm and Block 2 phone calls occurring between 7:00pm-8:00pm. The online sign up will officially open on Friday, Oct 2nd.
● Health and Safety: Students must always have a mask on hand for hallway travel and anytime physical distancing is not possible. When outside we have noticed some students gathering in larger groups without adhering to physical distancing and masks not being worn. This is concerning and is an area where we can be better as physical distance between friends needs to be respected. It is really important we all keep our distance & wear masks where necessary.
● Bussing - 2nd Half of the Quarter: As of Oct 13th, the timeframe of our two school blocks will change such that Blk 1 will have students attending 'every other day' while Blk 2 will see full attendance for the rest of the Quarter. All students who require bussing from home to school in the middle of the day (ie: they don't have a Blk 1 class but need to show up for their aft'n Blk 2) need to inform their Blk 1 teacher by the end of next week, Fri Oct 2nd so that an overall District Bussing Plan can be created.
● Daily Health Check Form: Parents are reminded to reference/use the latest Daily Health Check Form that is now posted at the top right corner of the main page of our school website, especially when your child is showcasing symptoms of illness. Please ensure that you communicate with your student's teacher(s) to let them know if your child needs to stay home due to illness.
● Group A/B Schedule: Just another reminder that our Block 2 is currently split in half and alternates attendance by Group A and then Group B each day until Fri, Oct 9th. Students should know which group they are in as indicated by their Block 2 teacher. Some classes with smaller numbers and a larger space to work (where physical distancing is possible) have been approved to continue with all students present and masked. This allows some students to be in classes for a full day. If students do not have an afternoon class, the expectation is for students to head home and not be waiting around at school. This may be challenging for some families but we are requesting your support as reducing school density for half the day is a priority. The Group A/B schedule for the next two weeks is listed below: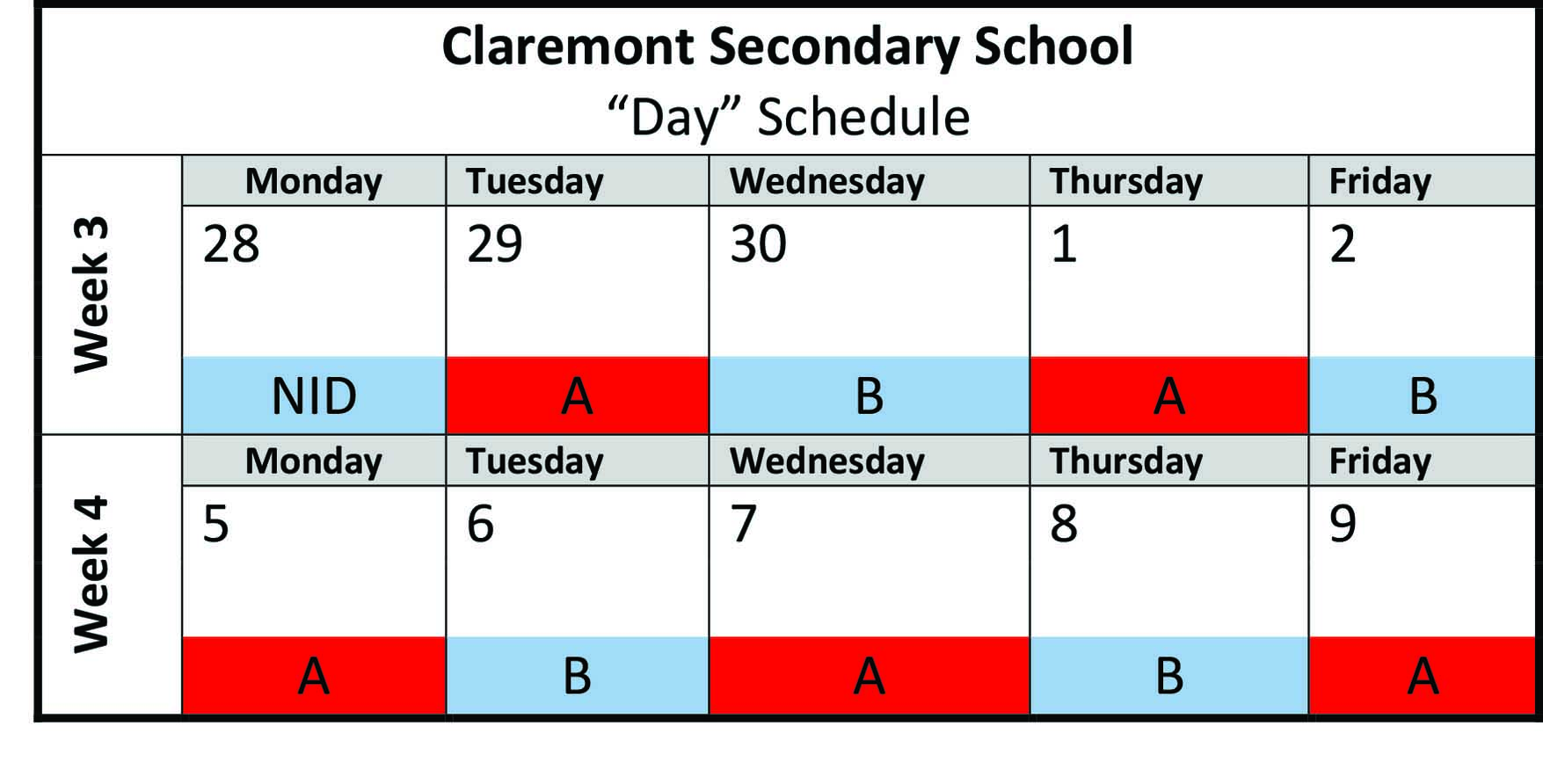 Thank you for supporting your child's education. We hope you have a wonderful weekend, and we look forward to another great week ahead.
Sincerely,
Peter Westhaver Kelly de Klerk Aaron Buckham
pwesthaver@saanichschools.ca kdeklerk@saanichschools.ca abuckham@saanichschools.ca